About the Tibetan Spaniel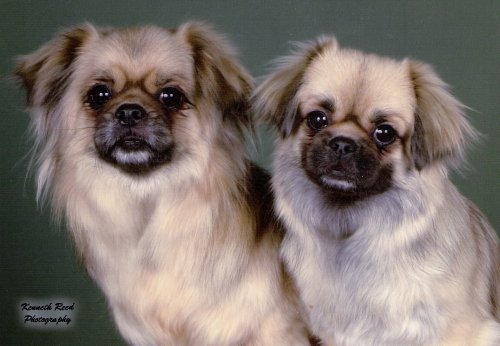 Ch. Friarland Willow Wisp "Willow"
(Eng. Ch. Reinbridge Simba of Souska X Friarland Wanda)
with her daughter Ch. Chadwick Tumbleweed "Tumble"

The Tibetan Spaniel, with its loyal personality, can be found providing joy and companionship to their doting owners. The agile, quick-witted, and intelligent Tibetan spaniel is also a uniquely appealing breed that provides much pleasure and amusement to its owners who value its independence, its divergent antics, and its devoted friendship. The Tibetan Spaniel shows a keen, lively interest in its environment and it participates in all family activities with energy and joy. It is a high-spirited, good-humored, unusually intelligent and exceptionally engaging companion. Moreover, you can rely on this special little watchdog to set off a most efficient alarm system at the hint of an intruder.

The Tibetan is held in high esteem by all who own them -- they are creatures that have captured our hearts and paved the way to many more human friendships as well. These happy-hearted Spaniels make life more enjoyable and memories precious, their elegance decorates the world. Truly dogs for all seasons.

Whether you are looking for a family pet or prospective show dog, it is hoped that the information given here will help you locate a Tibetan who is a good representative of the breed. If you provide that dog with a caring, loving home, he will give you his loyal devotion for all his life.

Take care to investigate the purchase of your canine family companion. Avoid purchasing from pet shops, puppy mills, brokers importing from foreign countries or internet brokers - buy from ethical, established breeders who show their dogs, who fully health test their breeding stock and who will provide you with the health certifications in writing on the parents of any puppy you are purchasing.