In Memoriam 1 In Memoriam 2 In Memoriam 3 In Memoriam 4





Dog's lives are short, too short, but you know that going in. You know the pain is coming, you're going to lose a dog, and there is going to be great anguish, so you live fully in the moment with him/her, never fail to share his/her joy or delight in his/her innocence, because you can't support the illusion that a dog can be your lifelong companion. There's such beauty in the hard honesty of that, in accepting and giving love while always aware it comes with an unbearable price. Maybe loving dogs is a way we do penance for all the other illusions we allow ourselves and for the mistakes we make because of those illusions. by Dean Koontz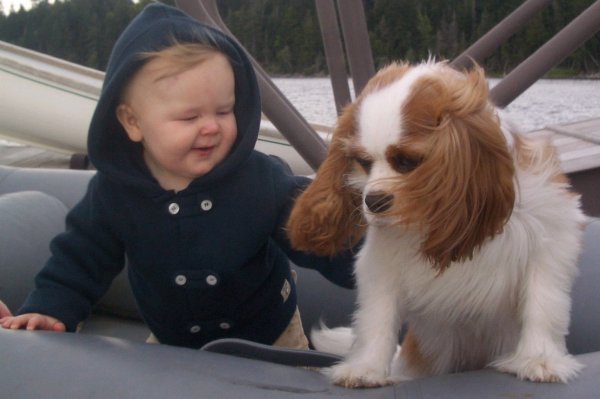 Dancer succumbed to complications with her liver disease and she is missed dearly by Allison,
Edward and Nate Johnson in Massachusetts.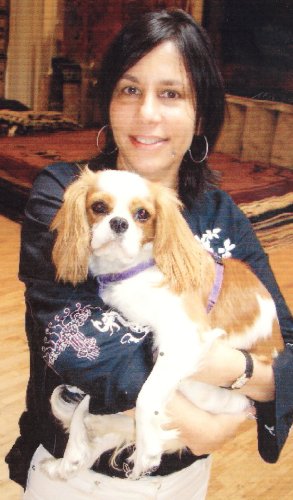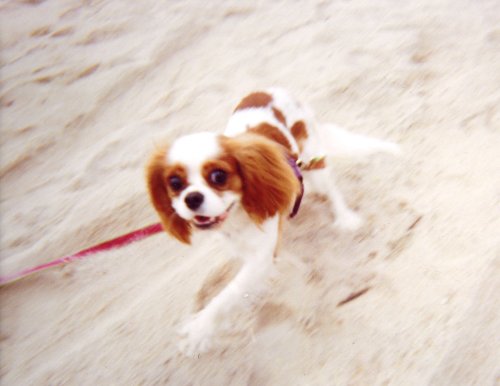 Left: Madeleine and her constant companion, Emma
Right: Emma running so happily and carefree on the beach in the Hamptons
As is the custom in the USA, July 4th is a day for celebrating with friends and family which is exactly what Madeleine Weinrib was doing that day. Suddenly, without warning, Emma darted between the guests' legs as they were arriving for the party and was on the outside of the fenced yard in a flash. When Madeleine tried to call her back the butterflies were too much of a temptation for Emma to even hear her owner's cries of concern. Sadly, like so many Cavaliers who accidentally escape from their secure environment, Emma was hit by a passing car and she died instantly.

The majority of Cavaliers that die young are usually hit by cars and often by their owners in their own driveways. Please - be sure to eliminate the driveway when installing fencing to prevent the Cavaliers from having access to a place where cars go.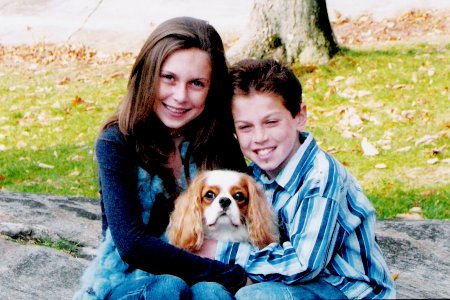 With typical Cavalier enthusiasm, two year old Bailey was just a little too inquisitive and managed to chew and swallow parts of a hair scrunchie. After a week of hospitalization and two surgeries, the damage to his intestines was too advanced to allow him to survive this ordeal. The Druckmann family mourn the passing of this bright, affectionate little dog who was their shadow every day.

Please - be careful what your Cavaliers get into. They can be terrible chewers all of their lives.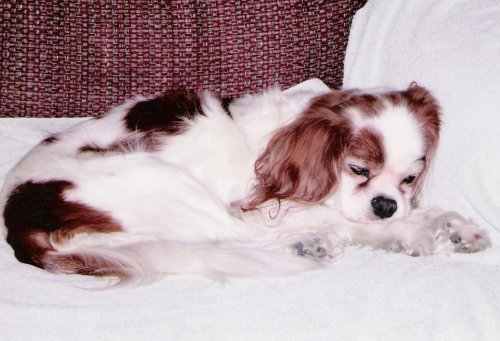 Chadwick Wild Bill Hickok "Dudley"
over 15 years old in photo
Dear Anne,
It is with great sadness that I write to tell you that our wonderful blenheim Cavalier, Dudley, passed away at 15 years and 5 months. The loss has been more than difficult to say the least. Both Tom and I miss him terribly and it has left a terrible void in our home.

The last few months Dudley became unable to walk, blind and deaf and really did not seem to know us at all. In the end he was constantly agitated and just seemed to be "gone", even though we and our vet did everything possible. We have Dudley's ashes buried in our patio garden with a lovely stone marker.

Dudley was such a marvelous dog, with all the perfect traits of a Cavalier. Both Tom and I will always be grateful that you sold him to us over 15 years ago and allowed him to come to Texas! Owning him made a huge difference in our lives.

Dudley brought such great joy and love and we in turn loved him so much. l He was a marvelous dog, Anne. Hope you enjoy this final photo we took of him a few months before he passed on.

Kind regards,
Cynthia Mitchell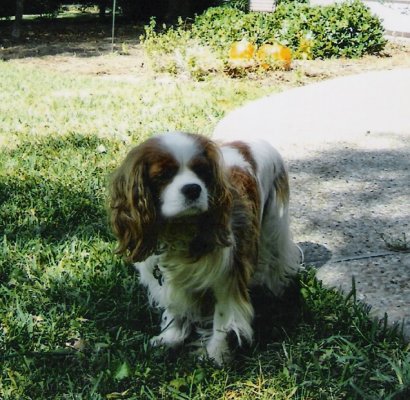 Dear Anne,
It is with great sadness that I write to inform you of the passing of my Riley from mitral valve disease at almost 8 years of age. He had been fighting congestive heart failure since July 2006. What a fighter! He has been a wonderful friend, always happy, with lots of kisses for everyone. I call him my "love dog".

Riley's dying has left a huge void in my life. I want to give myself some time to grieve before I consider raising another dog. When that time comes, I might be calling you for a puppy, a girl this time, or perhaps a mature dog ready for retirement.

Thank you for Riley. He was a wonderful part of our family.

Sincerely,
Elaine Gillen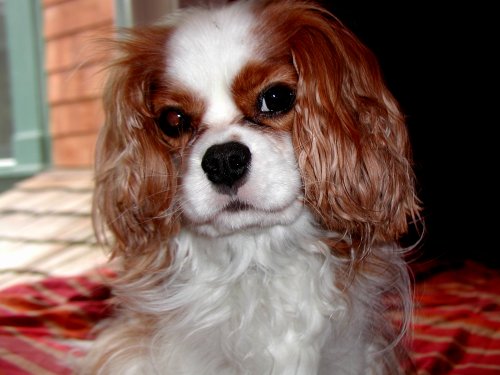 I know Eileen Lorusso has told you of our tragic loss of our beloved Sparkey. We are all so heart-broken. He was gone in five minutes. We were right by the door to let him back in and didn't hear barking or anything. If you could only roll back time. No dog had ever been loved so much by so many people. Please spread the word that no one can ever let one of these dogs out alone. It wasn't even dark out, just dusk. Even with the electric fence, etc....you can't stop the coyotes from coming to get them.

Although we are still so bereaved and know that we will never replace him, we do want to bring a new puppy into the house to try to move on. After knowing how much we enjoyed having Sparkey and how much he gave back to our family we can't imagine not having a Cavalier in our lives. So, whenever you are ready to let a puppy go we'll be waiting with open arms. We'd really like another Blenheim boy, but I realize that may not be possible.

Thank you and rest assured I will never let my next dog out of my sight.

Cindy

TIMEX
02/02/1998 - 09/26/2007

"The size of the heart is more important than the size of the body."
--Glenn Dromgoole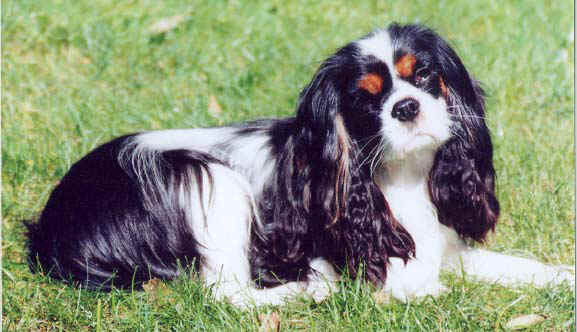 Timex came into mom's life when he was two years old. He needed a place to call home, and mom wanted a Cavalier - it was perfect. He was wary of strangers, particularly men, but patience and Cheerios could conquer all but the most daunting situations. He was mom's constant companion, living up to his name by helping her to fill the hours of each day with the appropriate activities: it's time to get up, it's time for breakfast, it's time for a walk, it's time for a nap, and so on. In short, he provided the reason for my elderly widowed mom to face the challenges of each new day. Who could have known that a routine walk to the mailbox would end in tragedy? I do not blame the Pit Bull that escaped hisi yard and violently ended this sweet little spaniel's life. It saddens me to realize that the Pit's life was so devoid of stimulation that he turned to innate behavior as a release from his boring existence. I hope he and Timex have made amends at The Bridge.

--Becky Hardenbergh
(daughter #3 & family K9 advocate)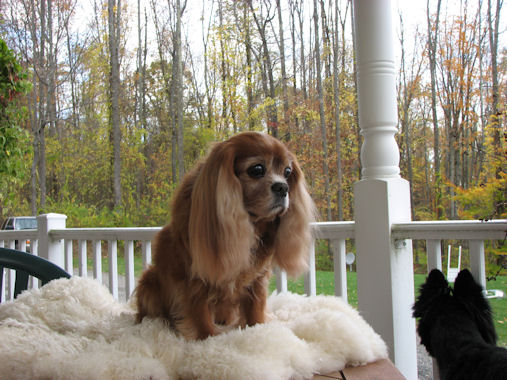 Chadwick Last But Not Least "Caboose"
Caboose was a singleton baby in Ch. Chadwick Tapestry's last litter (hence her name Last but not Least), sired by CKCSC, AKC & Can. Ch. Chadwick Foolish Pleasure at Brynwood. We kept Caboose of course and she went on to have a few litters and even raised Ch. Chadwick Tumbleweed (a singletone Tibetan Spaniel) along with two of her own pups and a yellow squeaky duck. The toy duck was an important part of her litter!

Caboose spent some time at the Holm household. Patrick, then about 12 years old, fell madly in love with Caboose and her affection for Patrick was the same. She slept with Patrick on an upper bunk bed - never fell off as she was tucked under the covers between Patrick and the wall. Fortunately, she announced her demands because there were times when she remained in that top bunk all morning, finally barking so that someone would lift her to the floor and let her outside.

An extremely healthy girl like her mother and father, her heart was still clear at 12 years of age. At 13 years she contracted throat cancer and in just a week the tumor had grown and was blocking her throat making it impossible for her to eat and breathe. It had become too painful for Sherry and Patrick to watch her struggle for every breath so while she still had some strength and dignity left, Sherry let her wander one last time through the fields she loved so much and then let her go.

Caboose was the happiest little dog - always full of love for the whole family, especially Patrick. The Holm house will undoubtedlybe so empty without her.