In the Beginning 2
1 2 3 4 5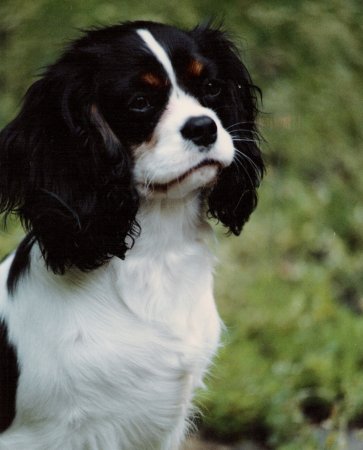 CKCSC & Can. Ch. Maxholt Special Secret of Chadwick "Chelsea"
(Master Dill of Maxholt X UFO of Maxholt)

Chelsea as a 6 month old baby--beautiful but oh so naughty!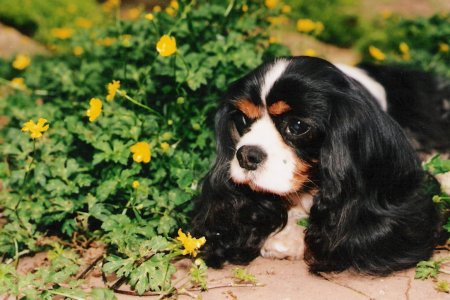 Chelsea at age 12 years, aged beautifully with hardly a grey hair.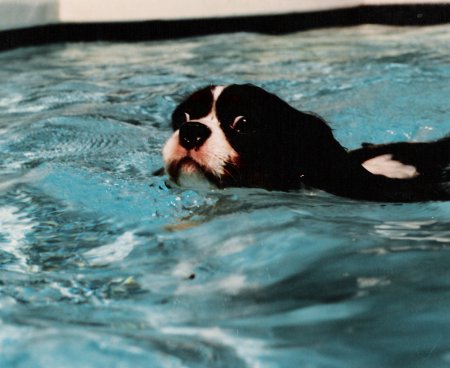 Chelsea taking a dip in the pool while vacationing in California.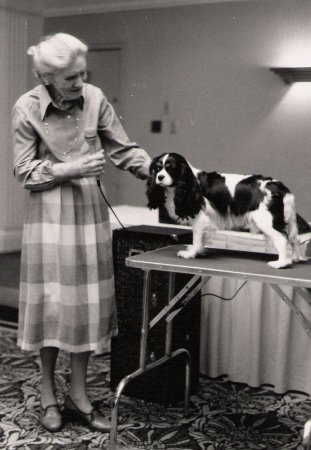 After winning Reserve Best in Show at Cavaliers of the Northeast Specialty,
judge Vera Preece of Chandlers Cavaliers, UK, critiques Chelsea and explains
her attributes to the other exhibitors.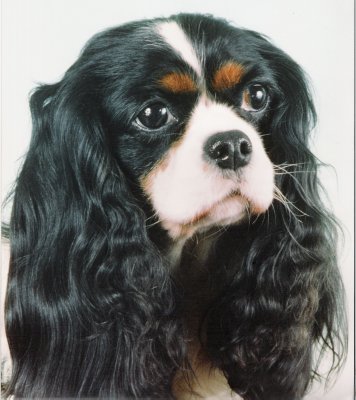 "Chelsea" was that once in a lifetime dog. She became the top winning female in the USA at CKCSC club specialties in the early 1980s. She loved to show herself off and did so with great aplomb. No-one could miss her or deny her consideration for top awards. She was the mother of CKCSC Ch. Chadwick Great Balls of Fire and the grandmother of CKCSC Ch. Chadwick Tapestry and CKCSC Ch. Chadwick Theatrical Trilogy. Again we were fortunate to enjoy her for well over 13 years.



Three Tricolors celebrating the Christmas Season
Seated on the bottom step: CKCSC Ch. Only of Kenstaff "Sebastian"
Lying down: CKCSC & Can. Ch. Maxholt Special Secret of Chadwick "Chelsea"
On the top step: Chadwick Christmas Miracle "Dickens", Chelsea's son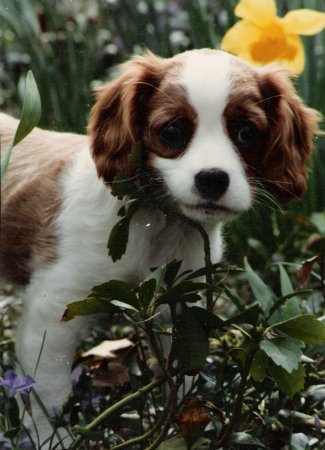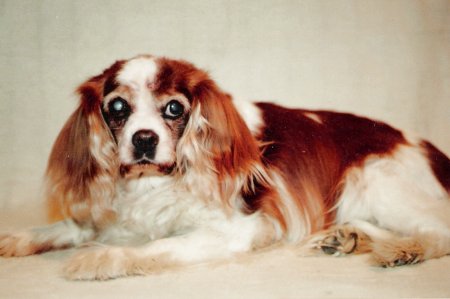 Maxholt Something Special of Chadwick CDX, "Summer"
as a puppy and as a 14 year old granddam
(Maxholt Tandem X Maxholt Same Old Story)


Summer was busy and brilliant, a combination which unfortunately often got her into trouble. She leapt over gates, impailing herself on the top, she jumped for frisbees that would hit her in the eye, she growled and snarled if she loved you, but her favorite activity was to jokingly attack my pant legs. I completed an entire heeling pattern at a CKCSC National Specialty with Summer attached to omy pants by her teeth! She was the dominant dog of the household and she ruled the roost. She was definitely a dog who made us roar with laughter almost every day for 14 1/2 years with her comical antics.